Returned recently from a 10-day trip through
Burkina
Faso
and Mali with four other volunteers. Our main hits were
Ougadougou
(
Burkina
Faso
), Pays
Dogon
(Mali),
Mopti
(Mali), and
Djenne
(Mali). In between was
ALOT
of miles of bush taxi discomfort and adventures.
Highlights?
The top highlight of the trip was a four day hike through
Dogon
country, a region of beautiful escarpments in middle-Mali that for centuries have been inhabited by the
Dogon
people, cultivators who have settled at the base of, at the top of, and--in some places--inside these escarpments. Alongside "beautiful," the other word needed to explain this area is "fragile," as the very traditional
Dogon
villages are vulnerable to encroaching desertification, tourism, and other outside forces, the effects of all of which you can vividly see. We had a
fantastic
time trekking the area, sleeping on roofs, meeting the locals, and hanging out with our
fantastic
guide,
Oumar
.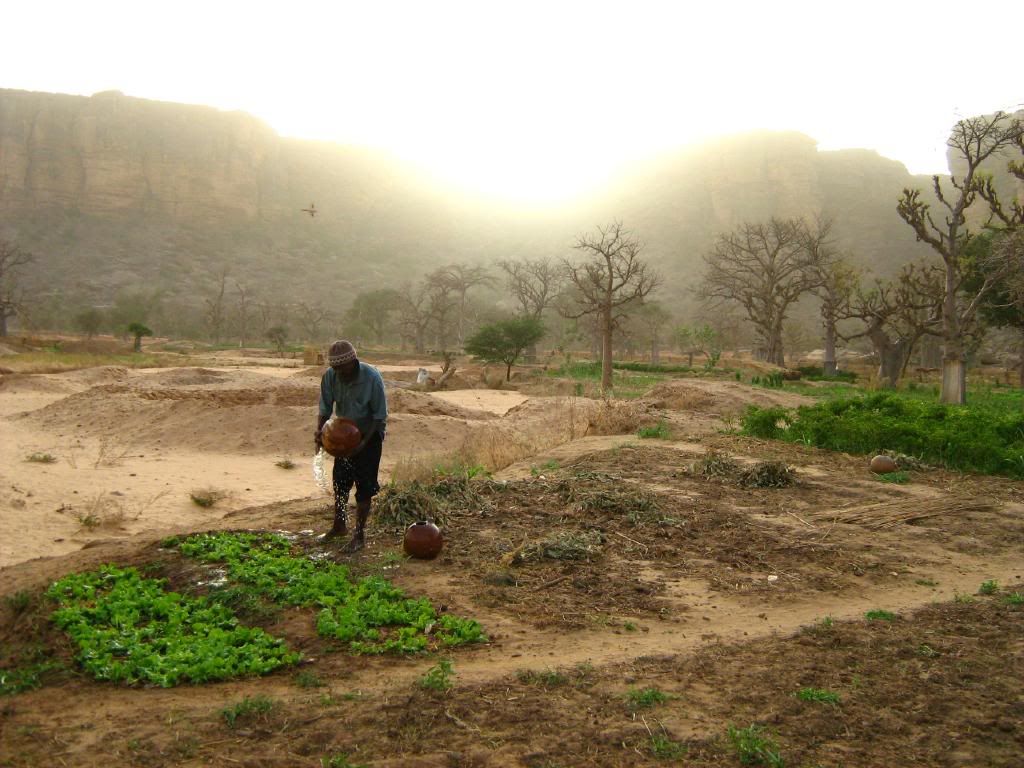 Visiting Africa's largest mud mosque in
Djenne
, Mali's "sister" city to
Timbouktou
was another highlight. A cleaner, more accessible, and quite possibly more beautiful version of
Timbouktou
,
Djenne
is a Muslim city of North African architecture, winding narrow streets, and lots of camera-friendly kids.
Though the miles and miles of "bush taxi" we covered could only be described as "fun" by the chronic
masochist
, I feel that something should be said about this element that consumed about half of our trip. What would voyaging in Africa be if not done in style:
Sahelian
heat,
harmattan
dust
, broken axles, flat
tires
, wooden benches, sharing space with peeing goats and dying cows.
I've posted some photos from the trip online.
Link here
to see the whole album.
Two sisters in Djenne.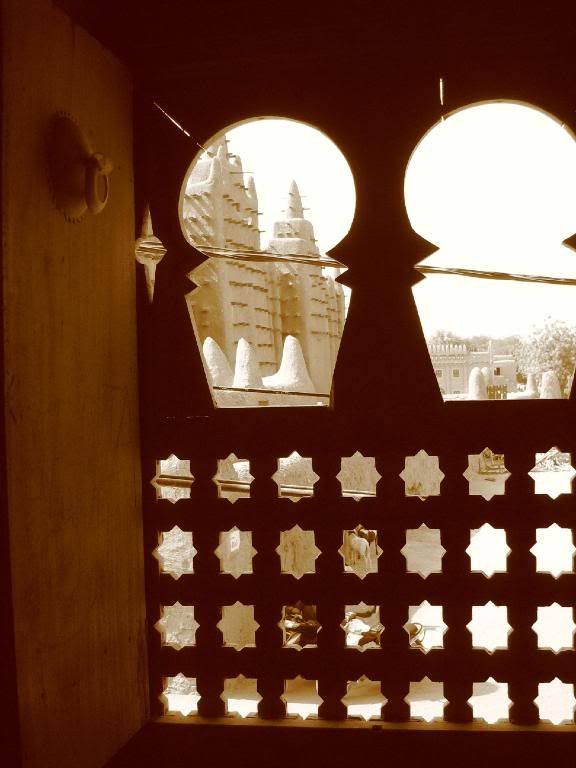 The world's largest mud mosque, seen through a house window in Djenne, Mali.
I and the other volunteers I traveled with, on a rooftop in Djenne.